We look at how to choose the best seat for your toilet.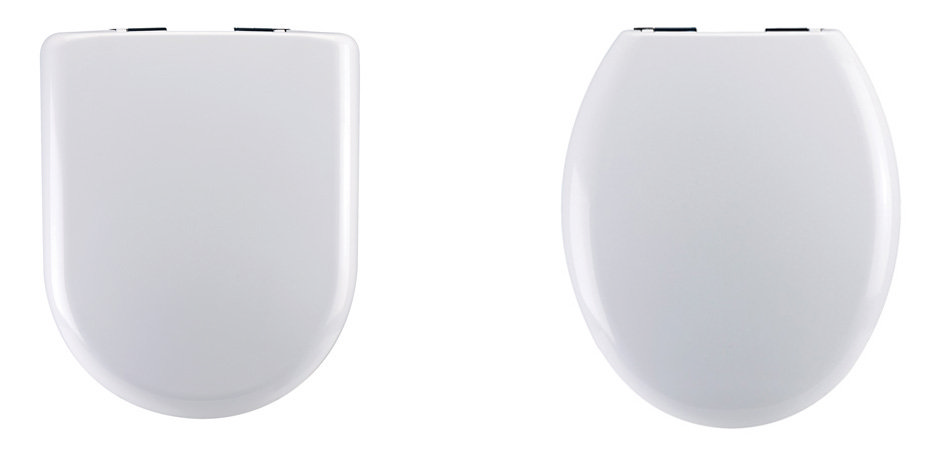 Choosing a new toilet seat can be confusing, as you are confronted with rows and rows of white, hinged plastic seats that at first glance, can be bafflingly similar. However, the right toilet seat can raise the look of your bathroom suite, and should not be thought of any differently as any piece of decor. We are going to look at the three things you should take into account when choosing a new toilet seat, and how they help you get the look you desire.
1. Shape and Size
Toilets come in different shapes and sizes, and to find the right seat you have to work out what shape and size your pan is.
Most commonly, toilet seats come as round or oval shapes, but square design toilet seats are also popular. You should be able to tell simply by looking which shape your toilet pan is, and it always best to match your toilet seat with the shape of your pan. Also - you may notice that some toilet seats feature 'wrap around' design - this means the lip of the toilet seat fits down over the pan, to create a smooth, contemporary shape.
To get the perfect fit we recommend you take the following measurements:
Fixing centre distance - the point between the two fixing holes of your toilet.
Width at widest point - the width of your toilet pan at it's widest point.
Total depth - The distance your toilet pan sticks out from the wall or cistern.
2. Hinges
These fit onto your fixing centres.
There are two options for hinges, and please be aware that not all hinges are suitable for all toilets. A top fixing hinge works by feeding two bolts into the toilet pan. A bottom fixing is a more traditional style fixing, with two bolts that fit down into your pan and are then tightened from underneath. Top fixing hinges are used when there is no access to the bottom of the pan, like in some back to wall toilets, or modern one-piece style toilets.
Also available are quick release hinges that let you easily remove the seat and lid from the pan, making the job of cleaning the toilet much easier, and Soft Close hinges that feature a hygienic, slow release system that cuts out any annoying slamming noises. We recommend soft close toilet seats for that added touch of luxury that we are sure you will love.
3. Material and Finish
Your choice of toilet seat is a great opportunity to pull your look together into a cohesive whole. There are also antibacterial finishes available, for those who want an extra hygienic boost - these are finished with a material that provides an added layer of protection and peace of mind.
Don't forget, you can always make a statement with a stylish seat, for example one printed with a design, or a bright colour. There are also a number of special wood materials and finishes, we see these used most often in traditionally-inspired bathrooms, with a high-end look - a deep mahogany fits the luxurious, traditional look, while beech retains the same quality, but has a much lighter, more versatile feel.
We recommend that you browse what is available, and pick something that complements your existing features.
Extras
There are always novelty options available if you wish to give your bathroom a fun feature, while there are family-friendly toilet seats available that can even help with potty training the mini members of your family.
So, when choosing a toilet seat, we recommend you discover which styles will fit and suit your pan - what shape is it? what size it? what kind of hinge will fix to it? Once you have done this you can think about the ways in which your new seat and lid can add to your bathroom.
When constructing a look, take time on the little things. Get the right shape, the right size, choose a material and create a theme. The benefits will be clear.
We hope you found this guide helpful! Come back soon for more style guides, DIY tips and Victorian Plumbing news!