Whether planning a full renovation or simply wanting to replace a tired floor, bathroom vinyl flooring could be an ideal option for you to consider.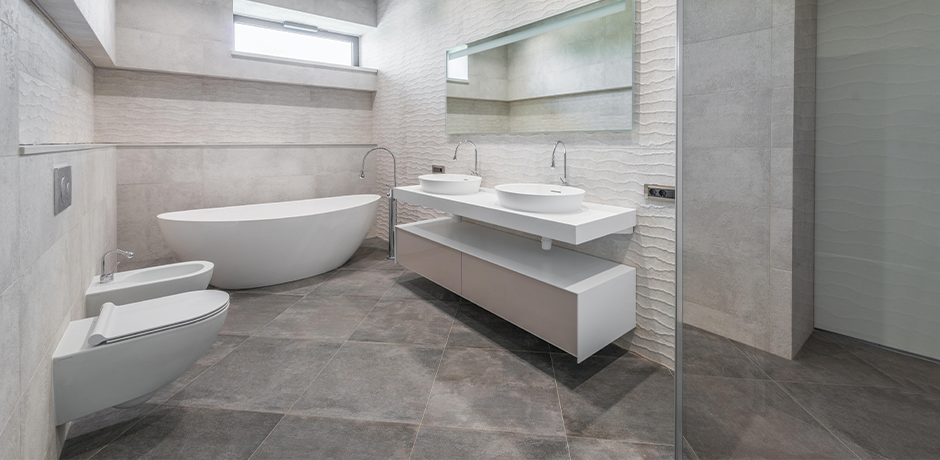 Tile and wood flooring have long ruled the roost in high-end bathrooms. However, in recent years, bathroom vinyl flooring has improved leaps and bounds to become a worthy competitor.
With this in mind, we've put together this brief guide to what bathroom vinyl flooring is, its advantages and disadvantages, as well as advice on whether it could be the right choice for you.
What is bathroom vinyl flooring?
Simply put, vinyl is a relatively cheap alternative to tile and wood floors. Whether you're redoing your bathroom flooring or your kitchen flooring, the following advice would be useful for you.
Traditionally provided as a continuous sheet, bathroom vinyl flooring is now available in both plank and tile forms which can effectively mimic expensive tile and wood floors.
This has made it more versatile than ever before with a host of quality brands featuring wood-effect and stone-effect finishes that come convincingly close to the real thing.
Additionally, this low-cost option comes with a host of its own unique benefits that could make it the ideal choice for you.
The benefits of bathroom vinyl flooring
Easy Installation - Whether you opt for planks, tiles, or traditional sheet vinyl, bathroom vinyl flooring is far easier to install than alternative options. You'll find options that require adhesive, as well as innovative vinyl flooring that simply clicks into place; such as the Karndean bathroom flooring 'Palio Clic' range.
Warmer Underfoot - Find your bathroom floor particularly chilly on cold winter mornings? Vinyl flooring could be a great shout for you. When compared to tile, vinyl is both softer and warmer underfoot, which can massively improve your experience without having to resort to underfloor heating.
Completely Waterproof - A must for almost any space, bathroom and wet room vinyl flooring is completely waterproof and, if installed professionally, will easily cope with moist environments and won't deteriorate if exposed to water regularly.
Low Maintenance - The waterproof qualities of bathroom vinyl flooring make cleaning a breeze; a simple routine of vacuuming following by mopping should suffice in most cases. It requires very little maintenance to keep it looking fresh and the low cost of vinyl planks and vinyl tiles means replacing damaged ones is always an option.
Realistic Finishes - One of the main drawbacks of older vinyl and linoleum flooring was the fact they often struggled to come close to the look and feel of real tile and wood flooring. Modern vinyl flooring, however, is now available in a wide range of high-quality finishes. You'll find vinyl planks and tiles that boast realistic colours and textures that, to many, can look just like the real thing.
Slip Resistance - Vinyl flooring comes with varying degrees of slip resistance, with some boasting R-ratings of R10 making them ideal for use in bathrooms and other areas where slips can occur such as kitchens.
It's Budget-Friendly! - On top of all these benefits, bathroom vinyl flooring also happens to be cheaper in general when compared to the alternatives. You should expect costs of between £30.00-£100.00 per ㎡ for solid wood flooring and £12.30-£90.00 per ㎡ for tiles depending on the quality you choose. Conversely, vinyl flooring can cost as little as £7.00 per ㎡ for economy sheets, rising to around £55.00 per ㎡ for luxury vinyl planks.
Why vinyl might not be the right choice for you
On the contrary, there are a handful of situations in which you should avoid it:
Selling Your House? - Tile and wood flooring are both highly desirable and installing them in your bathroom rather than vinyl is a safe bet for those wanting to sell. Switching out an old vinyl floor for a tile or solid wood one can even increase the value of your home!
Thinking Long Term? - Over many years of use, vinyl flooring can develop bumps and dents from the weight of heavy furniture, such as vanity units. This could leave you disappointed if you come to upgrade your furnishings mid-way through your floor's lifespan. If you're thinking extra-long term, go for tile.
Is vinyl flooring suitable wet rooms?
Vinyl flooring is capable of being used in wet rooms thanks to its waterproof and anti-slip qualities. Our favourite advantage of opting for wet room vinyl flooring, however, is the warmer and softer feel it provides you underfoot which makes for a far more pleasant experience when compared to cold tile and hardwood.
Our favourite vinyl flooring options
Karndean Palio Core Voltera Vinyl Tiles
Karndean bathroom flooring is known for its quality and the Palio Core vinyl tile range is no exception. The 'Voltera' stone-effect found on this particular option features such a realistic texture that you'd be forgiven for mistaking it for the real thing.
Each tile boasts a hard-wearing, waterproof, and easy to clean PU layer that will keep your tiles looking fresh for years to come. They also feature a patented 'Corek' locking system that allows for simple and lasting installation.
Harlow Distressed Oak Plank Vinyl Flooring
These thin and long vinyl planks have expertly replicated the look of real wood boards, but with all of the added benefits that come with bathroom vinyl flooring. They're anti-bacterial, anti-slip, and mould-proof too, making them a hugely versatile choice that covers all bases.
The distressed oak finish will help to give your bathroom or wet room a natural, rustic look. Harlow's vinyl planks also feature a patented 'Valinge' locking system that allows it to be installed directly onto underlay or level floors without the need for adhesives.
Karndean Palio LooseLay Sardinia Vinyl Plank Flooring
Soft, warm, quiet, and with the same Corek locking as mentioned in the previous Karndean bathroom flooring option, these Sardinia vinyl planks feature a high-definition printed finish best suited to modern, minimalist bathroom design.
All options in the Karndean Palio 'LooseLay' flooring range make clever use of a friction-grip backing to allow them to be installed without adhesives. This backing also supplies your room with unique acoustic qualities that can reduce impact noise transfer by up to 13db.
Enjoyed our brief guide to the benefits of bathroom vinyl flooring? Check out our entire range, here. Want more bathroom inspiration? Stick with the Victorian Plumbing Blog.